C-DOT's "India 5G Alliance"
Collaborative Development of 5G Technology for India
India and 5G
Recognizing that deploying a 5G network will have transformative impact on country's socio-economic growth, including on multiple economic verticals such as Agriculture, Health, Banking, Railways, Education, Urban Development, Manufacturing, Water and Power, India's focus is on development and rollout of 5G services at the earliest. The need of the hour is to secure the nation's critical communication infrastructure through safe indigenous technologies, in a speedy and efficient manner. There is no safer alternative than to build home-grown solutions that could compete in the domestic as well as the global markets.
The fact that telecom technology is critical to India's digital future, it becomes critical for both, the Indian private industry as well the government to collectively evolve and adopt a sustainable model for investing in indigenous research and development of 5G technologies and beyond. In the prevailing situation, unless a credible indigenous alternative is built for setting up and upgrading the nation's telecom infrastructure in the upcoming 5G space, India may be forced to go with a far more expensive option of again becoming totally dependent on importing technologies from the global companies. There is no better time than now to develop homegrown 5G technology when telecom sector is already on the cusp of this next technology revolution.
C-DOT's "India 5G Alliance"
Centre for Development of Telematics (C-DOT) is a premier telecom technology center of Department of Telecommunications (DOT), Government of India. C-DOT has more than 3 decades of R&D experience in indigenous design, development and production of telecom technologies especially suited to the Indian landscape. It has been at the forefront of the Indian Telecom Network's Digitization technologies. C-DOT's product portfolio is a wide array of telecom technologies that include switching & routing, optical communication, wireless communication, mobile technologies, network security, advanced encryption techniques and Post-Quantum Cryptography based solutions, network management, M2M/IOT, Artificial intelligence/ machine learning and a host of other telecom software.
C-DOT has successfully completed trials of 4G solutions developed indigenously in partnership with TCS and Tejas. BSNL has placed an initial order for deployment of 4G core and RAN (Radio Access Network) across four zones in the country. C-DOT is now working to upgrade its 4G core to 5G NSA (Non-Standalone) by August, 2022. The government has also tasked C-DOT to deliver the 5G SA core as well as 5G RAN and other associated 5G technologies. Therefore, C-DOT is forming an alliance with multiple players from industry and academia to undertake collaborative research and development in 5G.
C-DOT intends to deliver a complete suite of 5G products over a three-year period. Sufficient budget allocation by the government has been made for this. The India 5G Alliance is being formed under the guidance of DOT. This Alliance proposes an umbrella project for bringing together various ongoing R&D efforts in the industry, academia, startups, etc. C-DOT will manage the project and provide necessary support, including financial assistance wherever needed, to enable creation and evolution of 5G for India. C-DOT's India 5G Alliance will extend leadership, promote best practices, generate research ideas and provide technical & financial support to the ecosystem partners for 5G development & its deployment.
Ten separate consortiums listed below have been formed under this alliance for taking up indigenous 5G development in the areas:
5G SA (Standalone) Core Network consortium
5G Open RAN (Radio Access network) FR-1 consortium
5G Open RAN (Radio Access network) FR-2 consortium
5G Transport consortium
5G Applications consortium
5G Enterprise Network consortium
5G Data Analytics consortium
5G Network Management, Automation and Orchestration consortium
5G Security consortium
5G Device consortium
Each consortium will have members from industry and academic bodies who will bring different systems/sub-systems for the development of a market-ready product. For example, the RAN consortium will have players working in the area of RAN like the RU, DU, CU, RIC etc.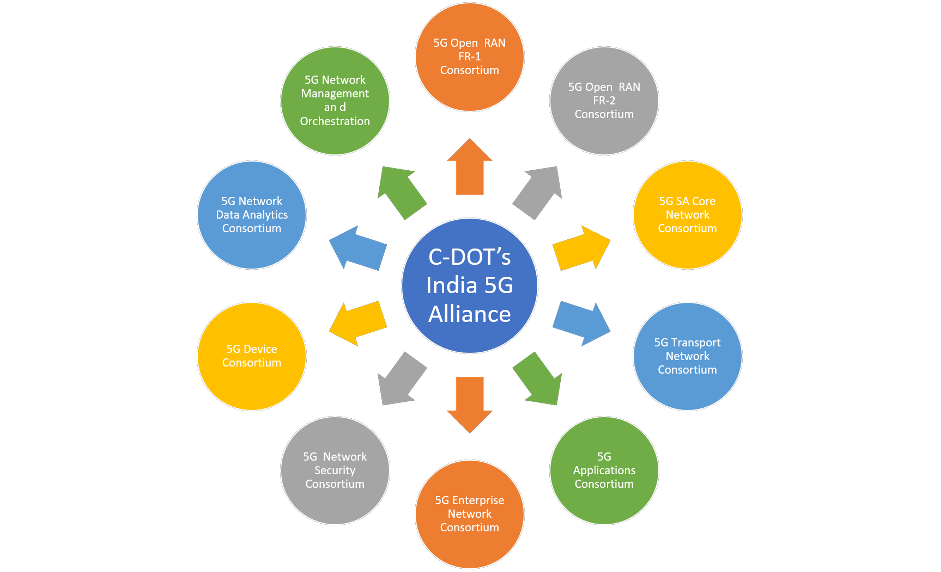 Current 5G Alliance Participating Members
5G Technology Advisory Board (TAB).
C-DOT has set up a Technology Advisory Board (TAB) for 5G technology, consisting of experts from industry and academia, which will advise C-DOT on technological development as well as policy direction. The TAB will have experts from the following key 5G areas:
5GRAN
5G Core
Advanced Optical Access & Transport technologies for 5G
5G Security and Analytics
Artificial Intelligence and Cognitive Sciences for 5G
IoT & M2M Integration for 5G
5G for Enterprise and Applications
Members of the TAB will be drawn for guiding each of the consortiums. Separate panels will be formed for taking forward the mandate of each consortium. Each panel will have at least 5 members from TAB, and one/two members from C-DOT for managing the preliminary work. Each panel will be chaired by a TAB member. The TAB will also guide C-DOT in forging collaborative research partnerships, selection of partners, examining the proposals for research and recommending fund allotment to industry partners. The TAB may recommend one of the following approaches for the development of different systems/sub-systems with the aim of delivering 5G solutions in a speedy manner.
In-house development at C-DOT
Joint development with other Indian partners
Outsourcing development work to Indian partners having the required skillset and capability to expedite development
Licensing technology / IPRs from Indian partners wherever required for building products
Incorporating systems/subsystems already available with Indian partners, wherever available
Technology Advisory Board Members (Alphabetical)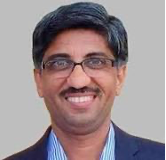 Prof. Abhay Karandikar
IIT Kanpur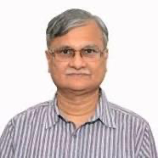 Prof. Ajit Chaturvedi
IIT Roorkee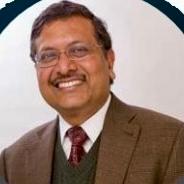 Sh. Amit Agarwal
COO, Smallboard.com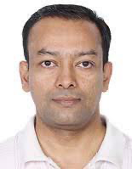 Prof. Amrutur Bhardwaj
IISc Bengaluru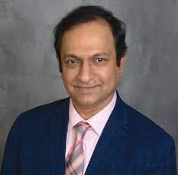 Dr. Ashutosh Dutta
Johns Hopkins University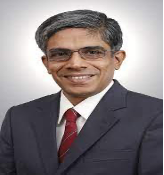 Prof. Bhaskar Ramamurthi
IIT Chennai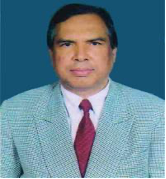 Prof. Ganpati Panda
IIT Bhubhneshwar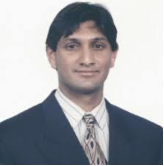 Dr. Giri Mandyam
CSA, Qualcomm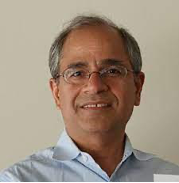 Sh. Guru Parulkar (TBC)
VP Intel NEX and Board Member, ONF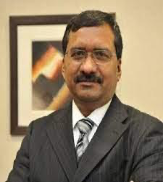 Sh. Jagbir Singh
Group CTO, Vodafone Idea India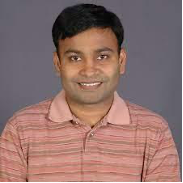 Prof. Kiran Kuchi
IIT Hyderabad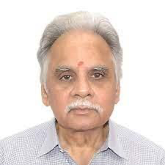 Prof. M Vidyasagar
IIT Hyderabad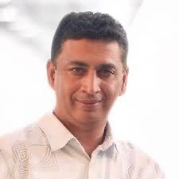 Sh. Manish Watwani
CPO/CMO, Telit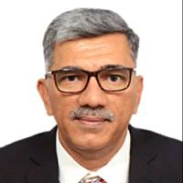 Prof. Manoj Choudhary
IIT Jodhpur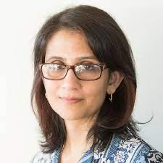 Prof. Monisha Ghosh
University of Notre Dame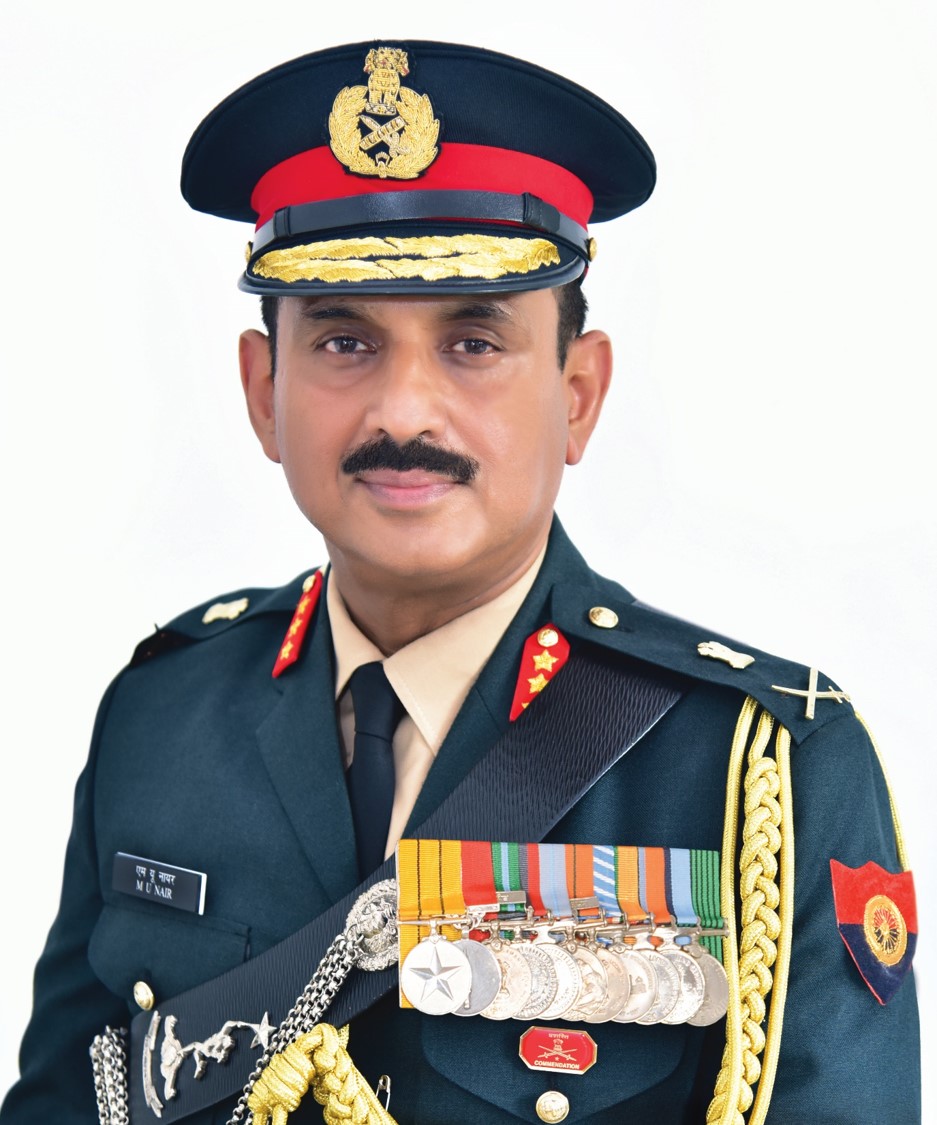 Lt Gen MU Nair, AVSM, SM
Signal Officer-in-Chief & Senior Colonel Commandant, Corps of Signals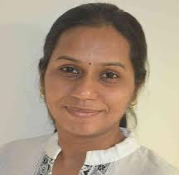 Prof. Mythili Vutukuru
IIT Mumbai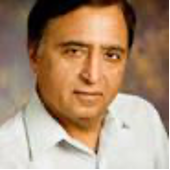 Prof. Narendra Ahuja
University of Illinois at Urbana-Champaign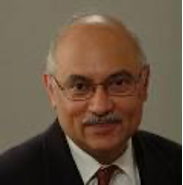 Prof. P R Kumar
Texas A&M University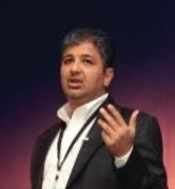 Sh. Prakash Sangam
Founder, Tantra Analyst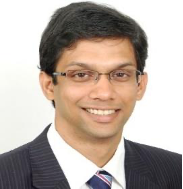 Prof. Radha Krishan Ganti
IIT Chennai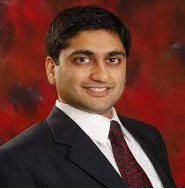 Prof. Rahul Mangharam
University of Pennsylvania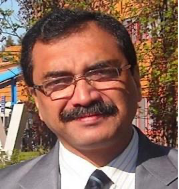 Prof. Raja Datta
IIT Kharagpur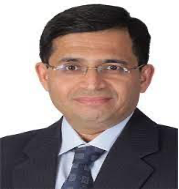 Prof. Rajeev Shorey
IIT Delhi
Sh. Randeep Sekhon
Group CTO Airtel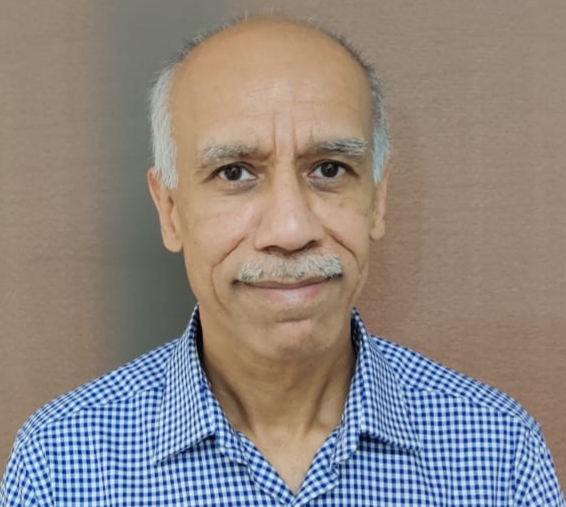 Sh. Ritu Ranjan Mittar
TEC Department Of Telecommunications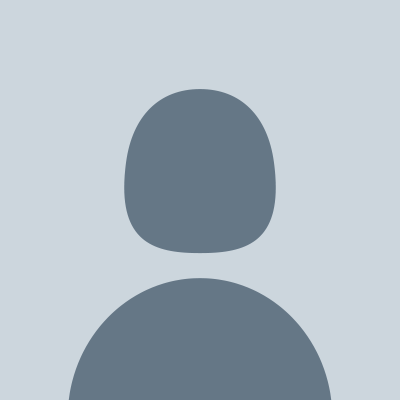 Prof. Samar Agnihotri
IIT Mandi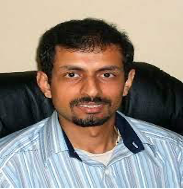 Prof. Santosh Nagaraj
San Deigo State University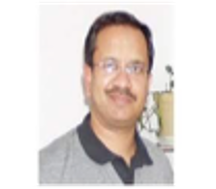 Prof. Sunil Kumar
San Deigo State University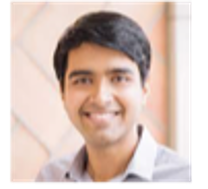 Prof. Swarun Kumar
Carnegie Mellon University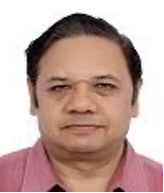 Sh. Vivek Banzal
Director Mobility, BSNL
India 5G Alliance Funding
Funding will be through a India 5G Alliance Fund of which C-DOT will be the main facilitator. The fund will be used for development of 5G technology and associated products and solutions. C-DOT will fund eligible project proposals from Alliance partners based on the recommendations from Consortium Panel/TAB. The funding can be in the form of equity, loan, revenue share, etc.
5G Alliance Project Engagement and Funding Process
5G alliance project Engagement and Fund approval will be a four-stage process
Partners interested in joining the alliance and seeking funds for a 5G development project will submit a statement of interest to the C-DOT Collaborative Research Cell (CRC). CRC can either receive these statements directly from prospective partners or it can invite the partners through open problem challenges, events, hackathons, call for proposals, etc. After a preliminary screening by CRC, proposals will be forwarded to the Consortium Panel (CP) for evaluation and funding.
There will be one CP for each consortium. Each CP will consist of five or more technical experts (with domain expertise) from TAB and one technical expert from C-DOT. The CP chair can co-opt any other member as deemed fit. The technical expert from C-DOT will prepare an initial report in a pre-defined format and submit to CP. The concerned CP will undertake technical/strategic evaluation of the proposals. A CP can approve proposals worth up to Rs 10 crores. The panel will require a quorum of five members for approving the funding. For a proposal with higher fund requirement, CP will forward the proposal with its technical evaluation report and recommendations to the Collaborative Research Screening Committee (CSC).
The CSC will have technical experts from TAB, C-DOT and DOT. The CSC will evaluate reports submitted by CPs and discuss the proposal's technical merit, social impact, commercial viability, risks, funding methods, IPR, revenue sharing, etc. The CSC can approve the proposal and grant funds up to Rs 20 crore. The committee will need a quorum of 10 members to approve funding. For proposals with fund requirement beyond Rs. 20 crore, the CSC will forward the proposals with its recommendation to C-DOT Steering committee headed by the Secretary, DOT.
The engagement process, selection criteria, method of funding, revenue sharing models, etc., and all other terms and conditions for joining India 5G alliance will be derived from C-DOT Collaborative Research Policy (CCRP - 2022).
Rollout of an integrated end-end campus network
C-DOT is also setting up a campus network with radiating spectrum at C-DOT Campus, Chattarpur, New Delhi for indoor and outdoor testing of 5G systems, subsystems and services. This test network will provide an opportunity to different partners to bring their prototypes for testing, validation, performance evaluation etc., to facilitate production of commercial grade products.